Connect 2.
Real-time NTS Crawling
Technology to collect real-time e-Tax invoice
sales/purchase history from HomeTax
We know what you want.
We can offer it exactly now.
e-Tax invoice sales / purchase history
Check NTS company status
Check types of taxation
Check accounts
Check credit card statement
You must check three key points of
LinkHub's NTS Crawling.
Don't miss the chance to use
the exceptional service.
No require to certificate
Semi-permanent certification method/
Multi-users can access at the same time
Real-time NTS Crawling
Conduct a crawling
the information 24/7 anytime
Directly offer to client
Take a direct transfer method not to
accumulate
the client's information
in external server
Comparing Crawling Technology
Apply the most advanced crawling technology named
as protocol method.
LinkHubProtocol method
OthersBrowser method
Collect the displayed data
using a browser
Huge consumption of resources
using one-to-one browser every users
Need to install PKI
/ Security program in advance
Collect the sending / receiving data
directly from HTTP
No additional resource cost except HTTP
(saving resource more than 80%)
No need to install additional software
for using system
Noticeable points from our technology
LinkHub have operated e-Tax invoice service
with own technology since 2004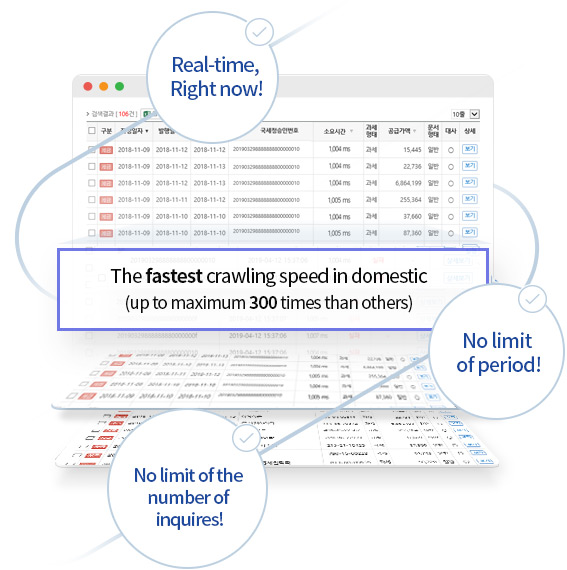 No need to register a certificate
that should be renewed every year
Batch processing handling
over million's crawling works at a time
PUSH Service (Webhook)
Directly send collected data to customer's server


We are providing an exceptional value to be suited to
client's needs struggling to advance our technologies consistently.
01
ERP, Solution Developers
related to taxation
Corporations required
to check e-Tax invoices real-time
and issue a sales statement at the same time
02
Corporations dealing
with lots of clients
(e.g. Bank, Stock Company)
Corporations struggling with
management of many clients
and high trade volume
03
Franchises, Companies
working with many traders
Companies struggling with works
of matching e-Tax invoice
sales/purchase history with HomeTax